Although a fun casino is similar in many respects to the real thing, there are a few fundamental differences. First and foremost, no REAL money is allowed to change hands at a fun casino whereas at a real casino, you can quite lose your life savings in the blink of an eye. A second important difference is that there is no minimum age limit for players since no real gambling takes place. Thirdly, (in the UK at least) you don't need any kind of licence to operate one.
If you're thinking of hiring one, a fun casino is usually set up at social or work events and is merely there to either entertain guests or as a marketing tool for businesses. You'd typically see one at:
 Weddings
 Birthdays
 Anniversaries
 Private parties
 Corporate entertainment events
 Corporate team building, product launches, film shoots etc.
 Charity fundraisers
 Office parties
 Special themed nights (Las Vegas, 007 etc.)
How does fun casino hire work?
More often than not, a fun casino will last for a total of 3 consecutive hours gaming time. Usually, each guest is given 'fun money' (fake, fun casino banknotes) before the tables open. Once the casino is open, party guests simply bring their 'fun money' to the tables and exchange them for chips. They then play at the tables in the same way as they would at a genuine casino.
If guests don't know the rules of the games the croupiers are normally happy to explain them so they can participate and have fun. When the tables close, whichever party guest has the highest winnings is declared the victor. Typically, a small prize is given such as a bottle of champagne or something similar.
It's really that simple – If you've ever been to one, you'll know that a fun casino at a party or corporate entertainment event is an original, innovative and cost-effective way of ensuring that your party guests will still be talking about the event for months to come.
What are the most common games played?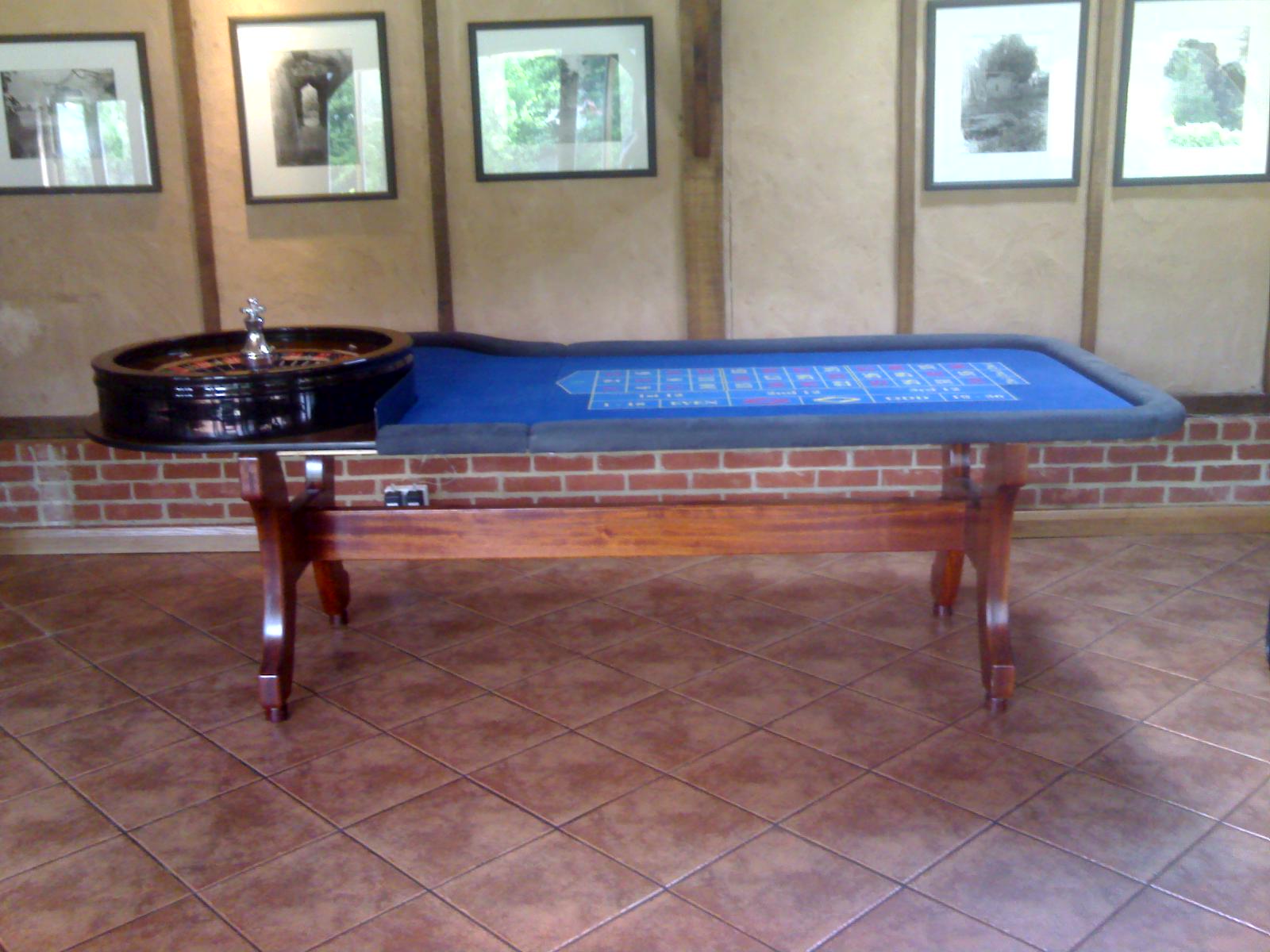 Roulette – Along with blackjack, roulette is the most popular choice for most parties and weddings. It's an easy game to learn and is great fun to play. You place your bet on the roulette table and your fate is decided on the spin of a ball around the roulette wheel. It's also a great choice for a fundraising charity event as the game requires no skill and the rules can be explained to players by the croupiers very quickly.
Essentially, roulette is a game of chance but there are a multitude of ways to place bets. You can either place a bet on a single number or spread the risk by betting on a series of numbers with just one bet (e.g. odd or even).
Blackjack – Blackjack is one of the most popular games alongside roulette. In fact, blackjack is one of the most popular casino games in the world. If you're familiar with the term 'pontoon' or 21's, you'll already know the basics of the game. Even if you've never played blackjack before, the rules can be taught by the croupiers in just a few minutes.
It's a fast-moving, exciting card game with a mixture of luck and skill and the objective is to beat the dealer's hand without going over 21. Players don't compete against each other and everyone at the table plays their own individual game against the dealer. Blackjack is the perfect accompaniment to most events – a single hand of blackjack can be played in less than a minute so players are not committed to remain at the table but can come and go as they please. Of course, if they choose to remain, they can stay and play for as long as they wish.
5 card (Caribbean) stud poker – Caribbean stud poker is a great way to be introduced to the game of poker. Although not as popular as blackjack and roulette, it's a great third or fourth choice. The game is played on a blackjack sized casino table (a 'half moon' table measuring around 6ft x 4ft) and is a mixture of luck and skill.
If guests are keen poker players and are familiar with the different types of hands involved in the game, then this is a great alternative to Texas Hold'em poker and much better suited to a party environment. Each hand is played against the dealer (not against other players) and can be played in under a minute so guests are free to leave whenever they choose.
3 card poker – Like Caribbean stud poker, 3 card poker is a great alternative to Texas Hold'em as, like stud poker, it's far more suited to a party environment. Again, if there are guests at the event who are avid poker fans, then this is an excellent choice.
This particular version of poker can now be found in many casinos in the UK and it has now replaced 5 card stud poker as the main form of casino poker that is played against "The House". Just like Caribbean stud poker,  players don't play against each other, and each hand takes around 1 minute to play.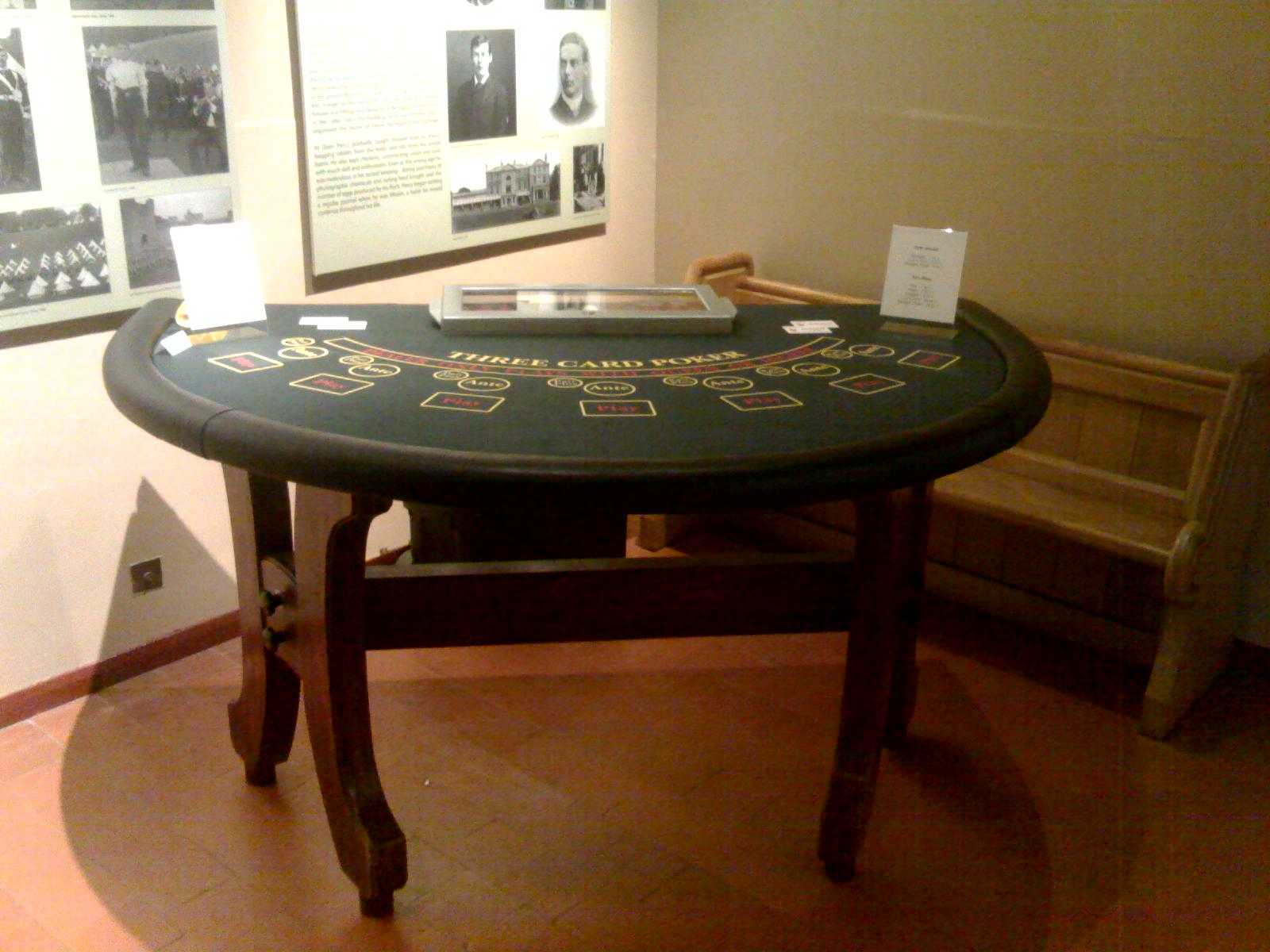 Dice (Craps) – This game isn't for the faint-hearted. It tends not to be as popular as blackjack or roulette as the rules are quite complicated to learn so it's  best suited to experienced dice players if chosen for an entertainment event.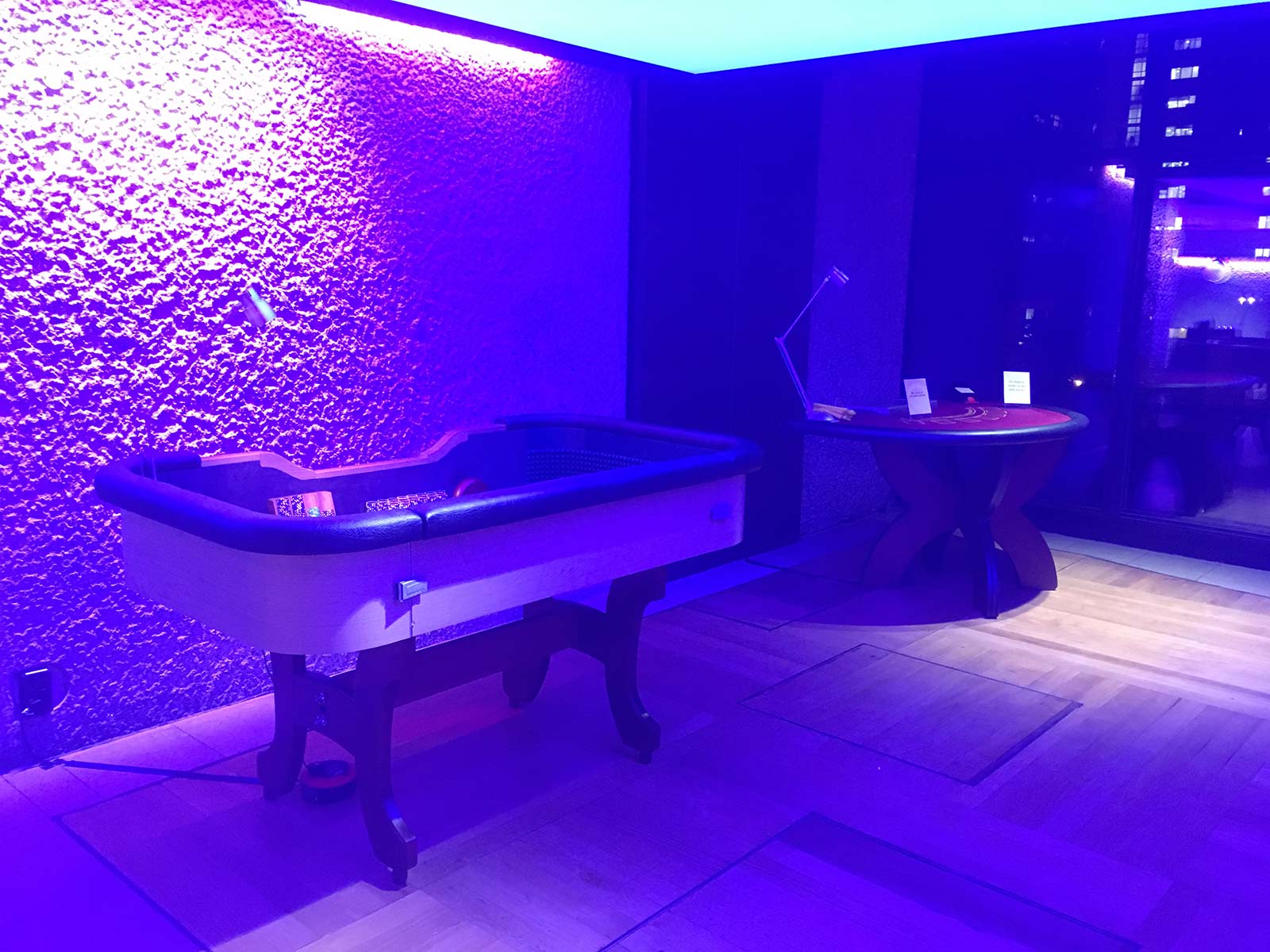 Types of events
Weddings – One of the most popular reasons for hiring a fun casino is to entertain guests at wedding receptions as it provides the wedding guests with something different to keep them busy during the evening. Typically, the casino tables are opened after all the speeches have been made and before the dance floor gets too busy. This ensures that guests have something to entertain them whilst they are preparing to strut their stuff on the dance floor later on!
For wedding receptions, blackjack and roulette are by far the most popular choice of casino games to hire.
Birthday parties – Hiring a fun casino for a birthday party will ensure that guests experience something a little different at the event. Blackjack and roulette are the most popular casino games to hire for most parties as both are easy to learn; even if guests have never played before. The croupier will usually be on-hand to explain the rules and give guidance to the novice player. The fun casino can either be in a home or a hired venue.
Corporate events – A fun casino is a great way to entertain staff or clients for any type of Corporate event. It's ideal for staff parties, new product launches, photoshoots, film and television shoots, team building days, corporate client entertainment functions.
Charity fundraisers – A fun casino at a charity event provides the glitz and glamour of a real casino and can be the ideal environment to raise money for a good cause.
More often than not, fun money (fake casino banknotes) can be sold to the guests. When they're ready to play, they simply hand the notes to the croupiers who will exchange them for casino chips at the table. Players then bet in exactly the same way as they would in a real casino.
One way to increase the money raised for the charity is to ask local businesses to sponsor the tables and/or provide attractive prizes. Guests are then encouraged to buy more fun money when they can see what great prizes can be won. They'll usually have an even better experience through knowing they are helping to raise money for charity in the process. For the organisers, once the cost of hiring the casino is covered, the rest of the money raised (in the UK) MUST go to the chosen charity.
At the time of writing, the UK Gambling Act of 2005 permits the raising of money for charity in this way and no gaming licence is required although certain rules must be adhered to when raising money in this way.
What type of equipment does a fun casino hire company use?
If the company hired is a reputable one, then both the equipment and staff will both be of a high standard. A word of caution however, this can vary greatly depending on who you choose. If you're thinking of hiring one, make sure to read their testimonies and look at pictures of their equipment if they have a gallery.
The size of the tables can vary too – a full-sized roulette table is around 9ft x 5ft and a card table is about 6ft x 3.5ft.
Roulette wheels
Since roulette is the most popular game chosen for fun casino hire events, the roulette wheel is the centrepiece that most people notice and are fascinated by. Some fun casino hire companies have specially made lightweight ones whilst others use traditional ones that have come direct from a casino. Typically, this will be an ex-casino wheel made by a company called John Huxley.
Random musings – Will the casino hire event have a John Huxley wheel at it?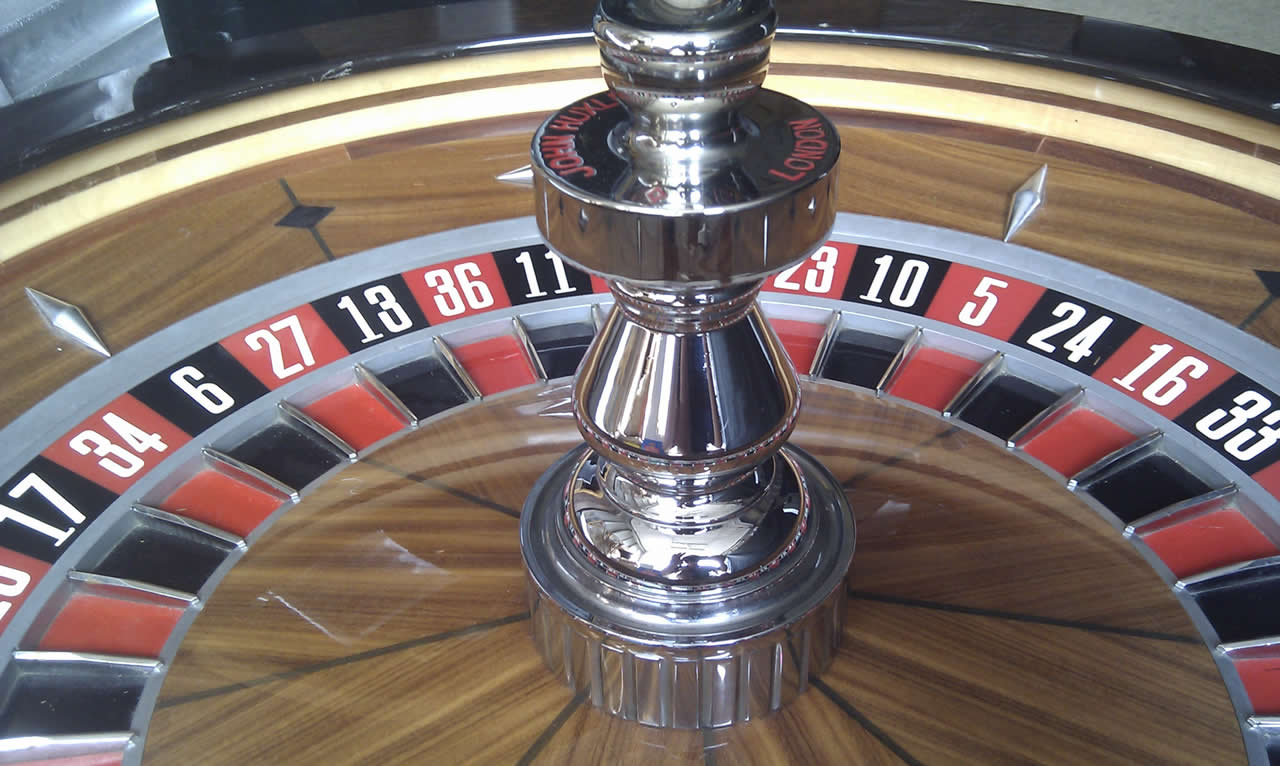 There's no doubt about it, one of the world leaders in stunning, precision roulette wheel manufacturing is John Huxley. You can find their wheels in plush casinos all around the world from Vegas to Monte Carlo and they have built up a reputation for a broad range of high-quality casino products including tables and other accessories.
If you hire a fun casino for your event, you'll sometimes see them on a roulette table right in front of you. Whilst you can buy lightweight roulette wheels that are specifically made for the fun casino hire industry, they're fairly expensive to buy brand new. It's mainly the price tag that sees many fun casino operators scouring eBay looking for a cheaper alternative.
John Huxley roulette wheels will set you back a pretty penny if you buy one new but you can actually pick up a used one for a fairly modest price on eBay; typically a few hundred pounds for one that's got a few dings in it.
The pros
A genuine, well-maintained ex-casino wheel spins for an eternity!. Well, OK, maybe not that long but you get the point. If you look after it, it really doesn't need any maintenance but if you leave it in a shed or lock-up, expect the chrome-plated turret to begin to rust over time. It's also made of really high-quality materials and these wheels are an exception, precision bit of kit; as they're found in real casinos, they need to be. If you've never set foot in a casino, you can still see these roulette wheels on many of the online and live TV gambling channels.
They look fabulous at fun casino events if they're in good condition but if you're unlucky, you may see one that looks like it's been thrown down a flight of stairs.  If you see a good one, it really is a thing of beauty. They're also "full-size", meaning that they're 80cm in diameter which is, of course, nothing like the size of the cheaper plastic ones you can pick up for a few pounds on eBay or Amazon.
The cons
Some fun casino hire companies use these wheels at their events as they certainly do add a certain panache to the setup. However, there are a few cons… and they're pretty big ones. If they get damaged, they're expensive to repair so the casino hire company will try to constantly make sure no one spills alcohol or sticky, sugary drinks in them. They also constantly suffer from the danger of chips, knocks and dents at fun casino jobs. It's really easy to bash a door frame or catch them on a stone step. If the company wants to keep these wheels in tip-top condition, they may need the services of a skilled French polisher to bring them back up to spec. The alternative is to carry them around in bespoke wooden transport containers but this adds to the overall weight and would need two people to pick one of them up.
With all this being said, by far the biggest problem with John Huxley roulette wheels at fun casino events is their sheer weight. As they're precision-engineered, they're extremely heavy; around 75KGs worth of heavy. If they're in a real casino, this isn't a problem as they always stay in one place but if the casino hire company is moving them from venue to venue, week in and week out, they need pretty strong arms. Even taking the centre out of the wheel whilst in transport only helps a bit. They are still difficult to even lift up onto the roulette table unless you're a regular on the weights at your local gym.
In summary, whilst they look fab and are cheap to buy secondhand, they're just not practical for fun casinos and there are now some really, really beautiful lightweight alternatives that look equally stunning but are much lighter to carry.
Having said all that, quite a few casino hire companies still use them (despite their weight) simply because they're cheaper to buy than a lightweight roulette wheel specifically made for fun casino hire companies.
Summary
Hopefully, you've now got a bit more insight into what to expect if you decide to hire a fun casino for your next event.