With over 2 billion users worldwide, YouTube has become one of the biggest social media platforms to exist on the internet. In fact, it's so big that 8 out of 10 marketers make use of the platform as a means to promote their products and content.
Aside from being a marketing tool, though, with 720,000 hours of content uploaded daily, this vast and powerful platform has become a source of information to many. Some even use YouTube videos to supplement the information on their website. So, if you're asking, "Would I be infringing copyright by putting a YouTube video on my website?", you're not alone. It's a common question lots of people ask themselves when trying to find videos to jazz up their websites.
There are a lot of misconceptions surrounding this important topic, so let's take a look at whether you can or you can't. If I simply link to a Youtube video like this one, then there shouldn't be a problem… Right?
Yep, you guessed it, no problem there. However, if I embed it (below) using the embed code from the Youtube user's website, what about that?
Since their well-crafted video now appears on this website as well, are The Inbredz going to finish glugging their bong and call their lawyers to drag me into a courtroom to explain my shenanigans?
Well, probably not
There are a couple of reasons I can think of straight away. Firstly – they'll probably be too stoned to give a shit and more importantly when these guys uploaded the video, they didn't disable the option that allows viewers to embed it on other websites.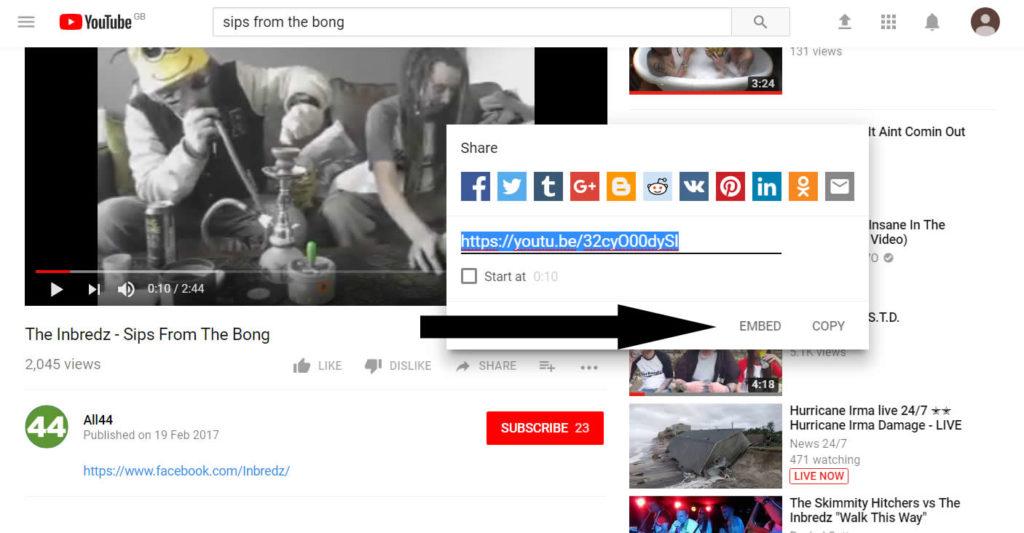 Where is the embed code for Youtube videos?
If you look at the above image you'll see the "Share" option just below the shaft of the black arrow. If you click on it the Share box you can see above will pop up. Click on the word EMBED (that the arrow points to) and you'll get the iframe code to paste into your website.
Because this option is still available, is it OK?
In my opinion, yes. There is a hugely important bit of legalese in Youtube's T&C's which relates to this very issue. They're always jiggling the bits of their Terms of Service around but at the current writing of this post, scroll down to 7.2 of the ToS document to find where it says:
You retain all of your ownership rights in your Content, but you are required to grant limited licence rights to YouTube and other users of the Service. These are described in paragraph 8 of these Terms (Rights you licence).
OK, so we now have to go to paragraph 8 and have a read of that. 8.1 (B) states:
…to each user of the Service, a worldwide, non-exclusive, royalty-free licence to access your Content through the Service, and to use, reproduce, distribute, prepare derivative works of, display and perform such Content to the extent permitted by the functionality of the Service and under these Terms.
Now, I'm no lawyer, but that seems to indicate to me that it's OK to embed videos into your website as long as the videos meet other copyright requirements. Most importantly, that those videos aren't ripping off other copyrighted work such as a user copying and then posting a video that is owned by someone else; for example, this one.
I'm not a fan of golf but the last thing I'd want to do is copy the video and put it on my own YT channel. There's no way I want Rupert Murdoch's army of lawyers breathing down my neck because I ripped off their boss.
In other words, if you can clearly see the Youtube user didn't make the video and has merely duplicated it (e.g. reposting TV shows, official music videos etc.) don't even think about embedding it on your website. You may well be OK because it wasn't you that uploaded it, but why take the chance?
What about the music?
I don't know if you noticed, but the backing track to the Inbedz video is Cypress Hill's 'Hits From The Bong', so is it still OK or is this a copyright infringement?
Again, in my opinion, no.  The reason being that it could be considered a 'derivative work' (a term mentioned in Youtube's T&Cs above.